Part no.: 09 0128 370 07
M16 Square female panel mount connector, Contacts: 7 (07-a), unshielded, crimping (Crimp contacts must be ordered separately), IP67, UL
M16 IP67, series 723, Miniature Connectors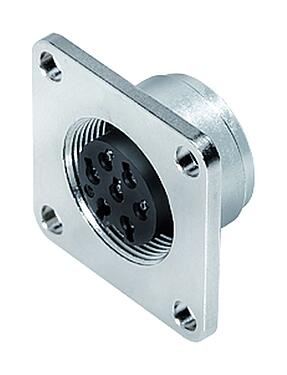 Security notices
The connectors have been developed for applications in plant engineering, control and electrical equipment construction. The user is responsible for checking whether the connectors can also be used in other areas of application.
The protection class specification applies on condition that the four mounting holes are made as blind holes.
Plug connectors with enclosure protection IP67 and IP68 are not suitable for use under water. When used outdoors, the plug connectors must be protected separately against corrosion. For further information on the IP protection classes, please refer to the "Technical Information" download centre.