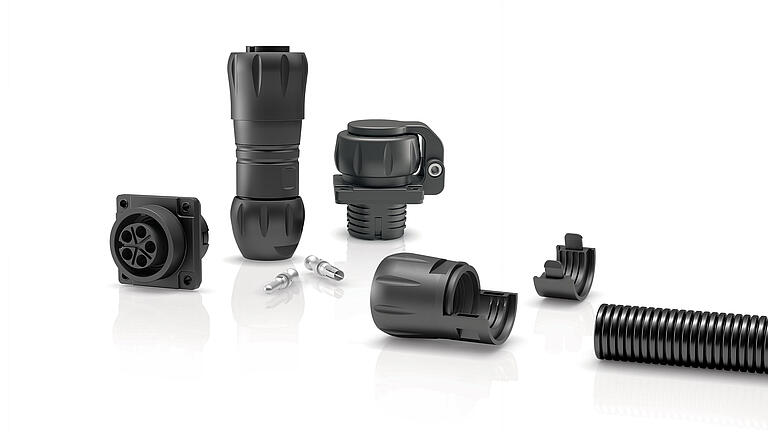 binder, a leading supplier of industrial circular connectors, presents the 696-series Harsh-Environment Connector (HEC) for outdoor use in extreme weather, dust, humidity, contact with liquids, extreme temperatures, or vibrations. The power connector was engineered for versatile power supply in both the low- and high-voltage segments under particularly harsh conditions. Its compact design supports the supply of equipment or assemblies, such as drive units, in confined spaces. In addition, the bayonet quick-locking mechanism, which can be closed or opened simply by pushing and turning, saves installation time. In hybrid design, power and simultaneous signal coupling is possible in a particularly efficient manner with one single mating.
The HEC's target applications are plants in process industries, including chemical and non-contact food technology, conveyor systems, and machines in agriculture, construction, or mining and surface mining. To withstand the mechanical, chemical, and climatic impacts typical there, components of the 696 series – cable connectors and square panel mount parts – are also available with protective fittings. Thus, at the connector, the power interface meets the requirements of protection degree IP68 – and IP69K when mated. Thanks to the integrated sealing function, all wires placed in the protective fitting are protected according to IP67.
Background: protection degree as a measure of strength
According to the DIN EN 60529 and ISO 20653 standards, so-called IP codes (International Protection) indicate the resistance of connectors to environmental influences, which include in particular contact and the ingress of foreign particles and water. The protection degree of a connector is specified in terms of these IP codes, with the first digit referring to the ingress of solid particles such as dust and the second defining the protection degree against humidity and water.
The IP67 protection degree, as for the wires in the HEC's protective fitting, represents protection against temporary submersion. IP69K indicates that the power connector itself is protected against exposure to water under high pressure. It is important to know that the protection degrees specified in connector data sheets generally apply only when the connector is mated.
Extraordinarily resilient
The 5- to 12-pin connectors are designed for rated voltages from 60 to 600 V and rated currents from 3 to 32 A. They work reliably at operating temperatures from -40 to +100 °C, are UV-, oil- and fuel-resistant as well as vibration-proof thanks to crimp connection. This non-detachable, solderless mechanical connection technology ensures a particularly tight fit of the wire to the terminating part of the contact.
Cable parts measure 36 mm in diameter, panel mount parts 40 mm x 40 mm. The 696-series components are both VDE-approved and UL-approved. Their mechanical strength is clearly reflected in the lifespan of the connectors, which reaches more than 1000 mating cycles in cases of the 5- and 8-pin connectors, and more than 500 mating cycles with the 12-pin parts.